Diving - Visibles BVI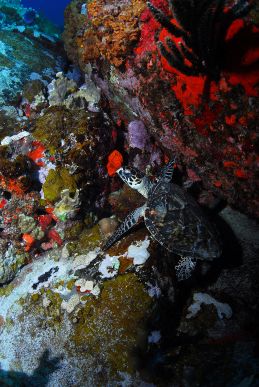 DEPTH: 10-80 feet (3-24 M)

LEVEL: ADVANCED
Off the southwestern tip of Cockroach Island a pinnacle comes within a dozen feet of the surface. A large barracuda has staked out the top of the pinnacle. This slope down is thick with huge deep-water gorgonians, luxuriant sea fans and lots of fish life. Look out into open water for eagle rays, turtles, sharks and large pelagic fishes.
At about 80 feet, there is a series of ledges and then large overhangs and little caves as you come around the corner and head shallower. This area is just overflowing with fish life. There is a huge school of ghostlike bigeyes that drifts out among the boulders (similar to the glasseye snappers that hide under ledges). Highhats, angelfishes and large snappers loiter in this area.
Up in the shallows next to the island, there is a fantastic maze of alleyways, tunnels, arches and monster boulders all covered with encrusting sponges, corals, hydroids and lots of fire coral.
Text extracted from The Guide to Diving and Snorkeling in the British Virgin Islands by Jeff Williams, Ria O'Hagan.
---