Diving - Seal Dogs and Rock BVI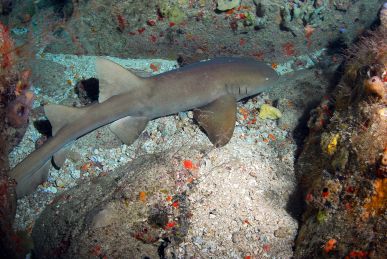 DEPTH: 20-80 feet (6-24 M)

LEVEL: ADVANCED
The bottom beneath the mooring is around 25 feet, and slopes down to about 70 feet. Pause here to look around for large pelagic fish passing through from the open Atlantic. Jacks, mackerel, kingfish and perhaps an eagle ray or two might promenade by. Along the bottom of the cliff off the northwest side of the island are fantastic rock formations made up of monster boulders and the convoluted bedrock of the island itself. Take the time to explore the myriad of canyons, swim-throughs, ledges and tiny caves.
There is a breaking rock just to the northeast of the two Seal Dog Islands, called Seal Dog Rock. The dive is a circumnavigation of the rock exploring the steep walls and looking out into the blue for passing pelagics. It is an exciting place to be, perched on a pinnacle situated on the edge of the Virgin Islands.
Text extracted from The Guide to Diving and Snorkeling in the British Virgin Islands by Jeff Williams, Ria O'Hagan.
---