Diving - Ringdove Rock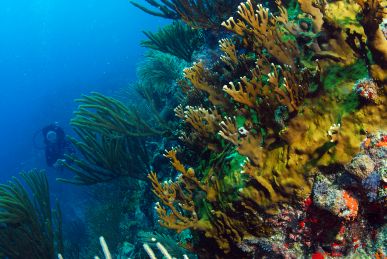 DEPTH: 15-70 feet (5-21 M)

LEVEL: NOVICE TO INTERMEDIATE
Ring Dove Rock is a fertile garden of a sea mount hidden in a sandy area in 55 feet of water. Spiraling up and around the formation you'll swim over a sloping bottom well covered by gorgonians and healthy sea fans. There are many rocky coral heads that stand up off the bottom, whose bases and sides are undercut and honeycombed. Lurking in these coral condos are lobsters, shy juvenile angelfishes, and small moray eels.
Coming around the far side of the pinnacle you'll see the thick cloud of sergeant majors always feeding in the current over the top of the rock. Two sand canyons cut through the summit. Crinoids, beautiful encrusting sponges, and lacy gorgonians line their walls. The sandy bottom is pockmarked by the dens of yellowhead jawfish, as well as furrowed by the slow meandering paths of burrowing red heart urchins, upon whose bellies can be found the tiny white heart urchin crab.
Overall this is a very busy reef, with clouds of plankton-eaters foraging in the water column above the rock, parrotfishes and trumpetfish roaming through the velvety gorgonians, and the bottom lit with splashes of color from iridescent purple tunicates and bright golden zoanthids on red rope sponge. Gangs of butterflyfishes often follow divers around, waiting for them to inadvertently chase sergeant majors away from the purple egg patches they were guarding. The butterflyfishes then charge in as a group and feast on sergeant major caviar. The butterflyfishes are so fearless while they gorge that photographers can place the extension tube framers of their Nikonos cameras right into the melee and get great close-up shots of the fish. Rock beauties, slender filefishes and well-fed lizardfishes round out the population.
Text extracted from The Guide to Diving and Snorkeling in the British Virgin Islands by Jeff Williams, Ria O'Hagan.
---