Diving - The Drop Off BVI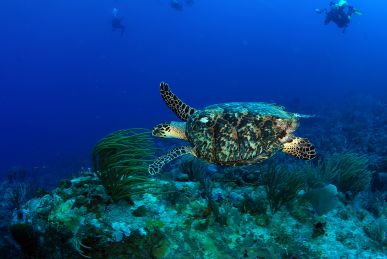 DEPTH: 70-130 feet (21-40 M)

LEVEL: ADVANCED
A unique BVI site called the Drop-Off is only dived from Cuan Law. The dive is made on a ledge in about 70 feet of water, away from the island group - out where the bottom begins to drop off into seriously deep water.
The underwater landscape is very different here. A gently sloping reef dominated by very large Barrel Sponges and luxuriant sea rods leads to the drop-off itself, a wall between 70 and 90 feet. The wall is patrolled by silver schools of Horse-eye Jacks and Atlantic Spadefish.
Text extracted from The Guide to Diving and Snorkeling in the British Virgin Islands by Jeff Williams, Ria O'Hagan.
---