Diving - Times Square BVI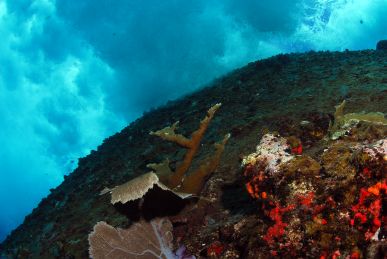 DEPTH: 10-80 feet (3-24 M)

LEVEL: INTERMEDIATE
Times Square is named after a huge cubic boulder that starts in 60 feet and rises to within ten feet of the surface, Around it is a jumbled mass of smaller boulders that lead down to the sand at 80 ft.
Because of the marvelous habitat, the whole area is teeming with fish and critter life. Two caverns cut in toward land at Times Square, angling upward from 30 feet to about 7 feet. The caverns are long enough to require a dive light and have been known, on occasion, to host a large Nurse Shark. Schools of silversides and copper sweepers reside in one of them. This is a great area for tarpon.
Text extracted from The Guide to Diving and Snorkeling in the British Virgin Islands by Jeff Williams, Ria O'Hagan.
---