Diving - Alice's Wonderland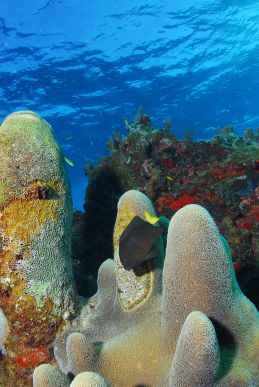 DEPTH: 30-70 feet (9-21 M)

LEVEL: INTERMEDIATE
Just off the dramatic rocky ledges of Ginger Island is a lush garden of Star Corals and Brain Corals. Huge mushroom-shaped coral heads adorn the long fingers of reef that protrude out from the shoreline. The coral hear his healthy and happy and offers shelter to many unusual inhabitants. Extremely large pufferfish have been spotted here as well as Barracuda, colorful Parrotfish, Squirrelfish, Angel Fish, Rock Beauties and schools of Snappers that hover in formation.
Known for its clear, blue water, visibility here often exceeds 100 feet. Spotted Eagle Rays, Southern Stingrays, Hawksbill Turtles and Crevalle Jacks are not uncommon.
The sandy bottom starts at about 80 feet and divers can swim up into the many rocky ridges and sandy canyons that will surprise with every turn. The reef is beautiful at all depths - you'll want to wind your way up the canyons so you don't miss a thing. Check under the ridges for huge lobster and sleeping Nurse Sharks.
Text extracted from The Guide to Diving and Snorkeling in the British Virgin Islands by Jeff Williams, Ria O'Hagan.
---