About Cuan Law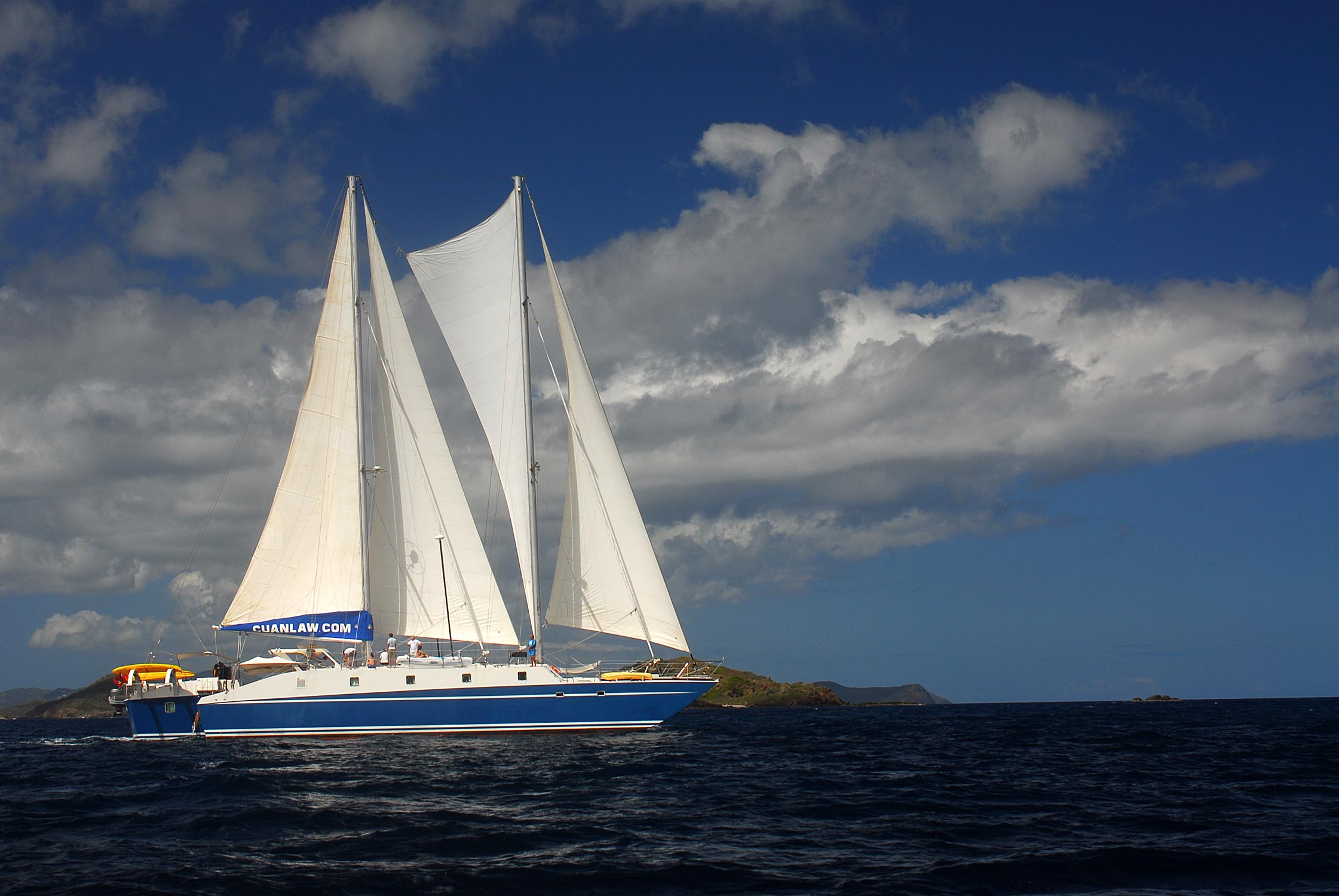 We believe that CUAN LAW is the largest sailing Trimaran in the World. She is constructed of all welded aluminum and was designed by her owners and built in Canada.
Onboard Cell Phone
As long as you set up international roaming with your home cell provider before you leave home, you will have fairly good cell coverage with your regular number throughout your time on board Cuan Law. If you are coming in a few days early and need to make a lot of calls, you may want to purchase a local SIM card from any of the 3 local providers who all have offices in Road Town. This may be a less expensive alternative, although to make and receive calls outside the BVI, International Roaming rates would still apply.
Onboard Communications
We have WiFi on board but like all boat based mobile systems, the bandwidth is limited. Fine for emails, but if you want to download lots of web pages or media, you may have to wait a bit!
Watermakers & Machinery
With two reverse-osmosis water makers and the capacity to store 1,200 gallons, there is ample fresh water available. The showers function with proper pressure and there is plenty of hot water. With her 5,200 sq. ft. of sail, Cuan Law sails a lot with the good trade winds, but when the wind dies she can do the speed of a power boat using her big twin Cats.
The mechanical operations of the boat happen quietly in the background, serving the guests without intruding on their enjoyment. All the "workings" of the ship are on the lower deck where they do not intrude on the guests' peace and quiet.
In addition, this impressive vessel has four generators, running on just one or two at a time. Cuan Law has a complete galley (kitchen) with large freezers and chillers, together with a workshop and an engineer skilled in fixing anything that might go wrong. Backups for backups and quality staff are great comforts on charters and Cuan Law has a good supply of each. In her many years of service Cuan Law has never lost a day through breakdown.
---