Diving - Angelfish Reef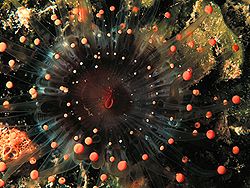 DEPTH: 20-45 feet (6-14 M)

LEVEL: NOVICE
On the lee side of Norman Island is a spectacular rocky maze of canyons and ridges that finger off into the sandy bottom. It will be a tough decision to set your camera up for wide angle or macro because there is so much opportunity for both. Large sharks have been spotted here, as have sleeping Nurse Sharks, and large green eels. There are lobster here that are so big, you'll be reluctant to get too close! On the smaller side, tiny crabs, baby eels and stealth shrimp can be found living in the many anemones.At night this reef comes alive with vibrant color. The delicate orange ball anemone can be found under protected ridges near the sandy bottom.
Don't miss out on the tiny critters that lurk on the sandy bottom and in the grassy area. The stingrays are easy to spot, but you'll need to look close to see the many beautiful species of shrimps, anemones, and crustaceans.
Text extracted from The Guide to Diving and Snorkeling in the British Virgin Islands by Jeff Williams, Ria O'Hagan.
---