Underwater Photography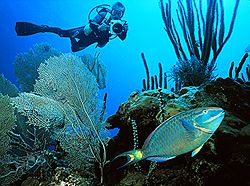 Underwater photographers will love the many photo ops a Cuan Law trip allows. Your option to dive at your leisure gives you the chance to capture some of the scenes just not possible when diving with a big group.
The crew members are experienced in handling photo gear. When you hand your camera up after a dive, they will place it carefully in a special rinse barrel. The rinse water is renewed frequently and an extra towel is available for drying your photo equipment. Camera rinse tanks are kept separate from gear rinse tanks. There are six dive deck tables to use for camera gear and set up.
There is ample space in the cabins for storing and reloading cameras. Each cabin has a double 110 volt outlet for convenient battery charging.
---