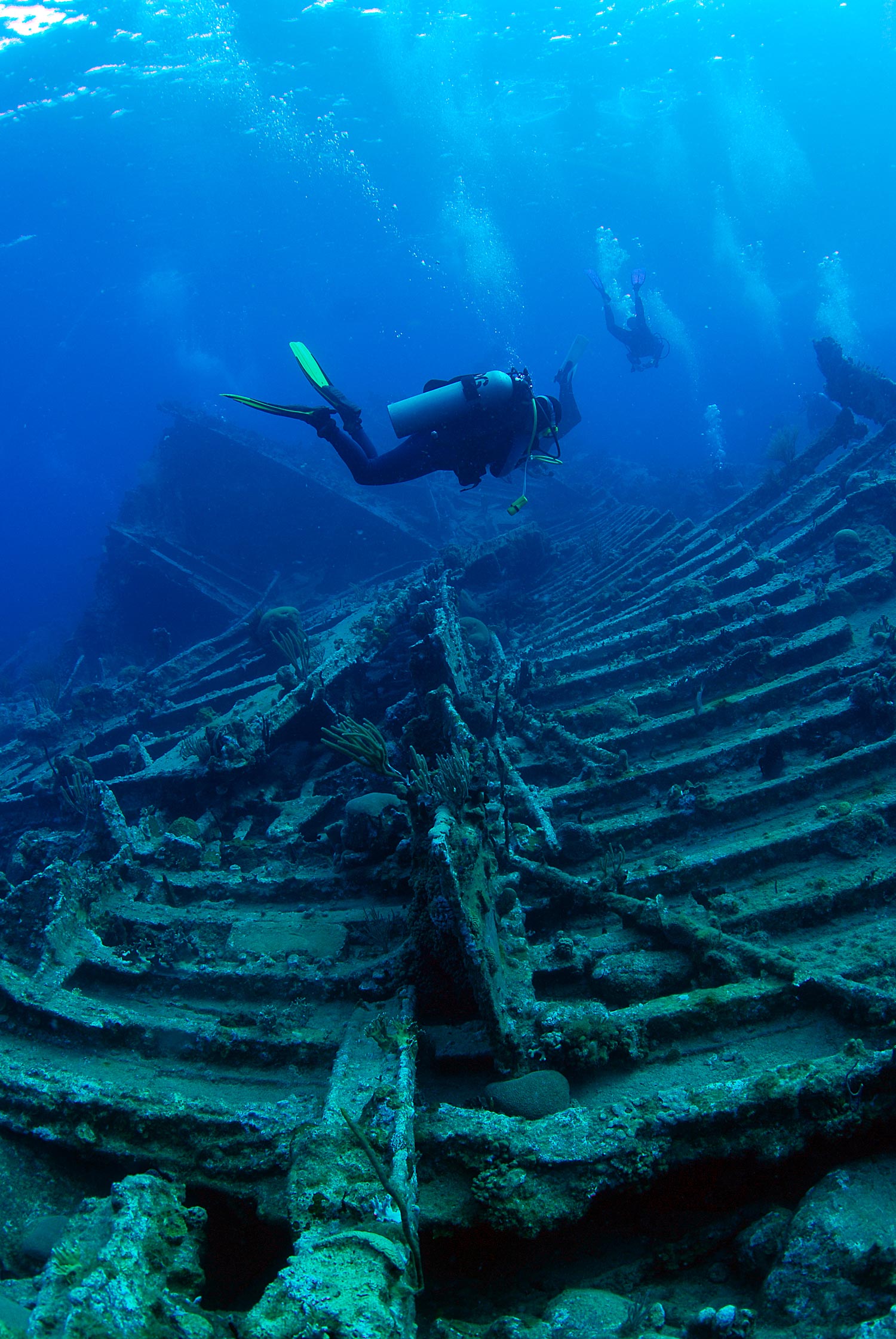 The BVI has many spectacular dive sites, but if you had to choose just one location to descend beneath the waves, it would surely be at the Wreck of the RMS Rhone. During a hurricane October 29th 1867, the 310ft Royal Mail Steamship Rhone foundered on Black Rock Point, but has since become one of the most spectacular diving locations in the Caribbean, even featuring in the 1977 adventure film The Deep.
When it sank, the Rhone split in two due to an explosion in the boiler room. The stern sank in 35ft of water, while the bow drifted to deeper waters, settling at about 90ft. The bow of the Rhone is a popular swim-through with divers and as much of the wreck remains open, it is considered a fairly safe wreck dive suitable for intermediate to advanced scuba divers.
At least two dives are required to fully explore the wreck, which is located between Salt Island and Dead Chest Island. Much of the vessel and its contents remain intact, including sections of the rigging, decking, the steam engine and the impressive 15ft propellor. Other objects to keep an eye out for include giant marine wrenches, signaling cannons and the lucky portholes.
In the almost 150 years it has sat on the seabed, the RMS Rhone has become a refuge for a remarkably diversity of marine life. Every inch of the vessel is encrusted with rainbow colored corals and the nooks and crannies of the reef provide homes for a myriad of creatures. Tiny fish peak out from the corals, octopus prowl and the waters regularly attract turtles, barracuda and even the odd nurse shark!
The Wreck of the Rhone is also a popular spot for night diving. When darkness falls, the wreck is transformed into a spooky and atmospheric world. Turtles cruise its waters, sharks patrol, giant green moral eels lurk and the vibrant orange and yellow cup corals make a striking contrast to the murk when they catch the torchlight.
As the Rhone is such a significant dive site with so much to see, Cuan Law usually devotes a whole day to exploring it, offering two day dives and a night dive so guests can get the full experience of this truly magnificent underwater location.
Contact us today to book a trip diving in the BVI with Cuan Law today and explore one of the most impressive wrecks in the Caribbean.