Sailing Log - May 31 to 6 June, 2015
We enjoyed hosting this week's diverse group of guests, which included a family with young, enthusiastic divers, as well as mature divers and non-diving partners. We were particularly pleased to welcome back repeat guests, one of whom had previously come without his family, but felt that his family would get a great deal from the experience and brought along his keen diving teenagers and his non-diving wife. Another repeat guest was very happy that of all this week's dives, only one - the Wreck of the Rhone - was a repeat from his previous trip.
Sunday, May 31
After our welcome aboard and safety briefing, we sailed on to Privateer Bay on Norman Island for our initial, check-out dive. We anchored here and enjoyed a beautiful sunset view.
Monday, June 1
After breakfast, everyone was keen to get started on the morning dive at Angel Reef on Norman Island. We then sailed north to West Dog Island and a dive site called Joe's Cave, which we offered again as a night dive.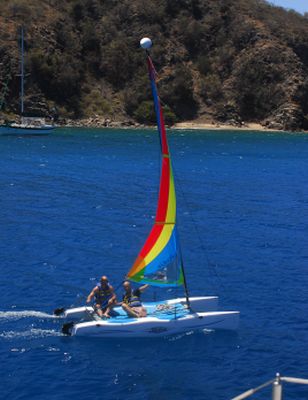 Tuesday, June 2
After diving at The Chimney at Great Dog Island in the morning, we sailed on to the North Sound, where we enjoyed a couple of hours kayaking and sailing the Hobie
Wednesday, June 3 Cats. We dived The Invisibles by tender in the afternoon. Our day was concluded with Champagne and hors d'oeuvres at sunset at Saba Rock.
We had an early start to reach our morning dive site, the Chikuzen Wreck. This is a popular dive site that can only be visited in good weather. Lunch and was served then we were underway to Muskmelon Bay and the Times Square dive site. Again, the Hobies and other water sports were enjoyed in the calm, protected bay before a late sunset cruise to Jost van Dyke. After dinner there was a night dive at The Cathedral. The after-hours party at the lively and ever-popular Foxy's Bar was enjoyed by all.
Thursday, June 4
An early departure was made, around Tortola and on to Salt Island for 'Rhone Day' where we spent the day stern to at Lion Point. Three dives on the Wreck of the Rhone were completed.
'The Rhone Story' is a pantomime explaining the history of the wreck, and is a popular regular feature of this day, with enthusiastic involvement from both crew and guests.
Afternoon water sports again were taken advantage of, including the Hobies, kayaks and snorkeling.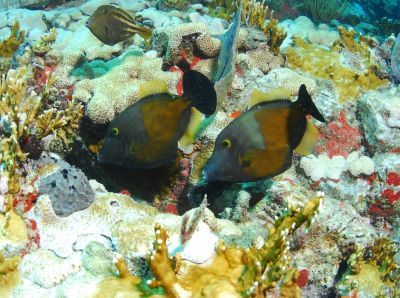 Friday, June 5
Friday is Baths Day! The first dive was at Coral Gardens followed by The Aquarium. Our Beach BBQ lunch at the Baths was thoroughly enjoyed by everyone. After lunch, the crew led guests on the Baths Walk and up to the hotel for cool drinks and a spectacular view – Cuan Law could be seen at anchor making a wonderful photo op. A late afternoon and sunset cruise, flying the Gollywobbler – our back end spinnaker sail – took us to our anchorage at Peter Island and the night dive at Randy's Reef was our final adventure of the week.
Saturday, June 6
After breakfast, we headed back to Road Town, where we made our farewells and wished our guests safe journeys home.
I would like to thank all the crew for their hard work, as always, and our guests in particular for making this week a memorable experience for everyone.